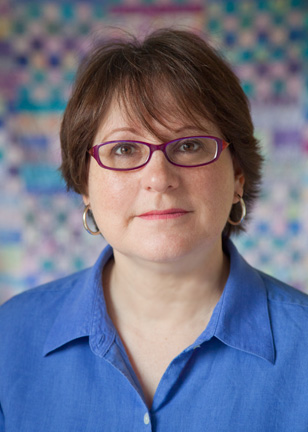 Second-generation Japanese American, Susan has been sewing since age 14. While going through an old trunk at her mother's home about thirteen years ago, Susan found her grandfather's kimono and obi with his kamon, the family crest, on it. She knew then that sewing in the traditional Japanese style was the path she wanted to follow for her quilting inspiration. Susan started quilting with Japanese fabrics, incorporating the sashiko form of hand sewing. When her own work inspired her to teach, she began with basic quilting classes in sashiko, shibori dyeing, and then branched out to Japanese free-form design classes.
In celebration of its newly refurbished entrance, the Brooklyn Museum of Art commissioned Susan to create photo pillows for their gift shop. Her personally designed and sewn line of Japanese handbags and pillows have been sold in Brooklyn shops.
Susan's quilts have appeared in QUILTS AROUND THE WORLD by Spike Gillespie and PIECED SYMBOLS, Quilt Blocks from the Global Village by Myrah Brown Green. Sato was choosen as a Featured Teacher on The City Quilter's website in New York City and Quilter of the Month in the Quilters' Guild of Brooklyn's Newsletter.
A member of the Empire Quilters and past co-president of The Quilters' Guild of Brooklyn, her work has been featured in exhibits throughout the Northeast. She teaches quilting at shops in New York City, Connecticut, New Jersey, and at quilting guilds around the area.